The object is not to defeat a rival, but to pace each other on the road to excellence
H. Walford Davies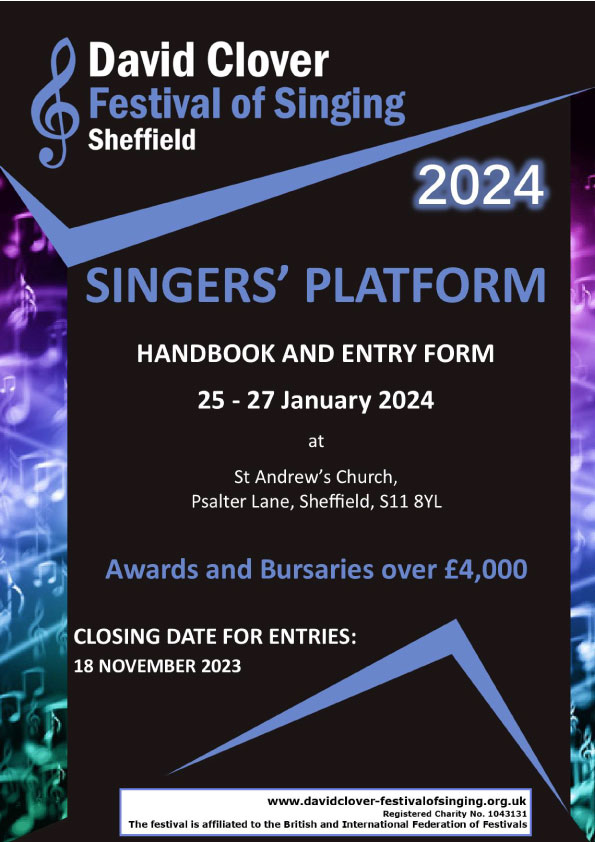 This is an initiative in the David Clover Festival of Singing and is intended to provide the opportunity to post A level (or equivalent level education) singers studying at universities and conservatoires, and those having private tuition, to continue the development of their art with substantial award money. Winners from past Festivals have been offered paid engagements with choirs in Yorkshire and Derbyshire.
Eligibility to this section of the David Clover Festival of Singing is for Soprano, Mezzo-soprano, Contralto, Counter tenor/Male Alto, Tenor, Baritone, Bass-baritone and Bass voices aged between 19 and 28 years on 25 January 2024*. Entrants in the Singers' Platform are eligible for classes in this part of the Festival only. Winners of classes in the 2023 Festival are not eligible to enter the SAME class in 2024.
*With the exception of Classes 6 and 8 which are open to singers aged between 14 and 19 (see class 8 details on page 5 of the handbook for further eligibility criteria)
Singers will receive specific details of timetable, procedures etc after the final date of the receipt of the Entry Form: 18 November 2023. Late entries will only be accepted in exceptional circumstances. Those singers who are post conservatoire/university and who have already crossed the threshold of the music profession and are earning a significant portion of their income from operatic principal, chorus or concert contracts are ineligible to participate in the Singers' Platform.
Venue for the Singers' Platform
St Andrew's Church, 31 Psalter Lane, Sheffield, S11 8YL